Training Programs
The CANY Learning Collaborative: Multi-Agency Training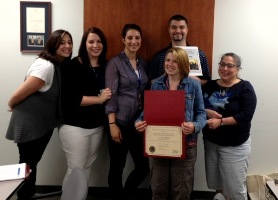 The Learning Collaborative is a comprehensive, interactive learning model. Through active participation in creative exercises and dynamic discussion, participants will learn how to use drama therapy techniques with traumatized children and youth.
Each CANY Learning Collaborative lasts for 8 months. Training participants meet regularly for intensive learning sessions and on-site supervision. CANY supports each participating agency in their capacity to record data and establish evidence-based practice.
Members of the Registry of Therapeutic Drama Providers in the CANY Model
July 1, 2013 - June 30, 2014
The Children's Center of Hamden
Child Guidance Center of Mid-Fairfield County
Clifford Beers Clinic
Community Mental Health Affiliates (CMHA)
Klingberg Family Centers
Lower Naugatuck Valley Parent Child Resource Center (pictured above)
The Village for Families & Children, Inc.