Training Programs
Professional Development Workshops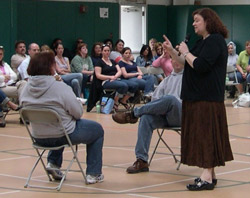 CANY offers training workshops for staff at any facility seeking professional development in the following areas:
Workshops to enhance and improve staff cohesion and communication in order to build a stronger and more conscious professional community and to better meet the needs of clients.
Workshops to develop skills using creative play and therapeutic theatre with clients. Specific tools are offered in how to use this therapeutic modality as an important added treatment option.
Trainings are an opportunity for staff to experience the healing and creative aspects of a therapeutic theatre group experience, whether for staff development or for learning therapeutic theatre skills. Participants are offered a forum for engaging in a professional community-building process through creative self-expression, discussion and play.
Training programs are tailored to meet the discrete needs of each organization and range from one-time, 90-minute experiential workshops to long-term, comprehensive training enabling site staff to fully implement our methodology into their setting.