2010 Annual Report
Our Training Programs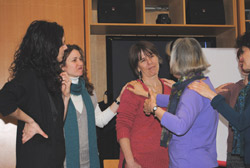 In addition to providing drama therapy groups, CANY offers a variety of training programs. Below are some examples of what we offered in FY2010.
Training for Program Partner Site Staff
Andrus Children's Center: One 8-week training program with residential cottage care staff and one 10-week training program with residential school staff (teachers, classroom aides and mental health professionals assigned to children in the day school)
The Children's Center of Hamden: One 6-week training program with residential facility youth care workers
Jewish Board of Family and Children's Services: One day training to help veteran peer advocates develop outreach and engagement skills, and to build team cohesion


One Day Professional Training Workshops
An Introduction to Drama Therapy: Three 1-day workshops for artists, educators and mental health professionals to introduce participants to the basic principles and practice behind drama as a healing modality.


International Training Programs
Tomillo Foundation, Madrid, Spain: One 2-day intensive training in the CANY model of drama therapy with 20 artists, educators, mental health professionals and the 5 member theater staff of Tomillo Center