Become a Program Partner
All CANY programs are co-facilitated by licensed creative arts therapists and trained theatre artists who guide clients in creative exploration and reparative relational work.
CANY provides weekly or bi-weekly drama therapy programs for groups of 8-12 clients at partner agency sites. Each partnership is a custom-designed collaboration between CANY and the partner agency.
What do you get in a Program Partnership?
A minimum of 12 weeks of programming for your clients

While some of our partners opt for an academic year or a full-year program, our minimum program length is 12 weeks. During recent studies led by an independent consultant, we have determined that our clients gain the most benefit from a minimum of 12 weeks of groups.

Clinically-sound Drama Therapy groups

Our groups are co-led by Licensed Creative Arts Therapists (LCATs), Registered Drama Therapists (RDTs) and highly-trained theater artists. Read more about the CANY model of drama therapy .

Ongoing communication throughout our partnership

It is important to us to have a strong partnership your site and staff. Our staff provides weekly clinical notes and anecdotal evidence about our clients and will also attend in-person meetings with your staff before and after each of our drama therapy groups. In addition to our group co-leaders, our Program Director is available to answer your questions via e-mail, phone and in-person meetings.

One 90-minute in-service for your staff

Staff in-services offer experiential workshops for staff to not only learn about the CANY model of drama therapy, but also to provide them with a group experience which models our work with clients. After experiencing the introductory session, many sites ask for ongoing staff workshops in order to build alternative ways of working with clients on a day to day basis. In addition, ongoing staff training can address vicarious trauma issues that arise and work on team building skills.

The ability to work with you on outcome measurement tools

We have the ability to work with your staff on outcome measurement tools, including trauma tools, for the length of our partnership. Contact our Program Director (via the link below) for more information.

Discounted admission to CANY Drama Therapy Trainings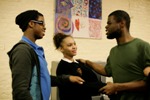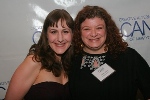 Contact CANY
Contact CANY Program Director Heidi Landis, RDT-BCT, LCAT