Mission & History
Our Mission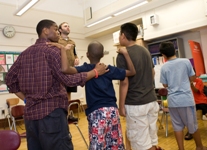 Empowering people who have endured trauma to rebuild their lives.
Through the use of drama therapy and creative expression in a group setting, CANY helps children and adults expand their self concept, imagine new life possibilities and build the social and emotional tools they need to live meaningful lives.
Our History
Creative Alternatives of New York (CANY) was founded in 1969 as The Imagination Workshop under the board leadership of Janet Levy, wife of Gustave Levy, who guided CANY until her death in 1992. What began as innovative therapeutically-oriented theatre workshops with patients in the psychiatric units at The Mount Sinai Hospital has grown and evolved into a leading provider of therapeutic theatre in the New York City metropolitan area. Mrs. Levy was a pioneer in promoting the role of the creative arts as a healing experience for those struggling with mental illness.
Under the artistic and clinical leadership of Emily Nash, former Artistic Director and Clinical Supervisor, and the board leadership of Ellen Kealy, (Board Chair, 1993-2005: now Chair Emeritus), CANY developed its unique therapeutic theatre model which synthesizes the arts of the theatre with the dynamics of group therapy. CANY now offers its programs at over 15 facilities serving traumatized, mentally ill and underserved populations.
Throughout its history, Creative Alternatives of New York has developed strong relationships both among the theatre community and among the community of mental health practitioners. This blend of the world of the theatre arts and the world of mental health has resulted in a unique organization which brings a novel creative therapeutic model into the lives of so many children and adults in need of discovering their ability to heal through re-connecting with their own potential to imagine and create something new.
CANY is a qualified charitable organization 501(c)(3) and donations made are tax deductible pursuant to IRS regulations.